Buffett speaks at Purdue Ag Alumni Fish Fry
Sunday, 05 February 2012 02:51
INDIANAPOLIS - Farmer and philanthropist Howard G. Buffett spoke on the need for global food security in his featured presentation during the annual Purdue University Agricultural Alumni Association Fish Fry Saturday (Feb. 4) on the Indiana State Fairgrounds in Indianapolis.
Buffett, son of billionaire philanthropist Warren Buffett, operates a 1,240-acre farm in central Illinois, manages a 400-acre, family-owned farm in eastern Nebraska, and oversees two research farms the Howard G. Buffett Foundation owns: a 1,300-acre farm in Decatur, Ill., and a 9,200-acre operation in South Africa.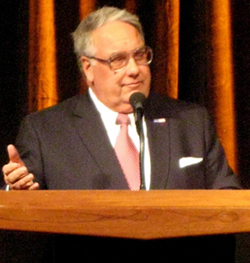 Purdue Agriculture officials noted they was pleased to host yet another nationally prominent speaker to keynote the Ag Fish Fry. Buffett is president of the Howard G. Buffett Foundation, a private foundation with a primary mission to address global food security through sustainable agricultural production and improved resource management.
Buffett started the foundation in 1999. It provides $40 million to $55 million annually in grant funding primarily in Africa, Latin America and the United States. In the past decade, it has funded projects in more than 74 countries.
About 1 billion of the world's nearly 7 billion people suffer from chronic hunger because of economic, social, political and environmental conditions, and the need for greater food security will continue to increase as the population grows. Scientists project that agriculture will need to double plant and animal production by 2050, producing it more efficiently and safely on less farmland, to meet the needs of a population expected to reach 9 billion people.
Buffett served in senior executive positions at Archer Daniels Midland Co. and the GSI Group. He is now serving on several corporate and nonprofit boards.
During his address at the Purdue Fish Fry, he pointed out the hunger exists everywhere, including the U.S., and in every town large and small. He issued a pointed challenge to agriculture groups - from universities and legislators to ag businesses and farmers - to step up efforts to achieve better land and resource conservation in order to feed a growing world population. He also urged the farmers in attendance to take a leadership role by donating the profits from one acre of their land to local food banks to help fight hunger.
Among special guests at the event who spoke briefly to the ag alumni and guests in attendance were Lt. Gov. Becky Skillman, U.S. Rep. Mike Pence, U.S. Sen. Richard Lugar, Purdue President France Cordova and Dean of Agriculture Jay Akridge.
Completing his tenure as president of the Purdue Agriculture Alumni Association is James Beaty of West Lafayette (a former Extension Educator in Pulaski County). The new president is Roger Hadley of the Fort Wayne area.
(See a 34-second video showing the featured speakers at the Purdue Ag Alumni Fish Fry on the Pulaski Post Facebook page.)
Eight receive Purdue Ag Alumni's top award
WEST LAFAYETTE - The Purdue University Agriculture Alumni Association recognized eight leaders in agriculture with its highest award for the recipients' exemplary and longstanding service to their profession and communities.
The association presented them with a Certificate of Distinction on Saturday (Feb. 4) during the annual Ag Alumni Fish Fry at the Marsh Blue Ribbon Pavilion on the Indiana State Fairgrounds in Indianapolis.
"Purdue Ag Alumni is honored to present such a distinguished group of professionals with our highest award, recognizing the many ways they have gone beyond the normal call of duty to perform their jobs and to serve others," said Donya Lester, the association's executive director. "These eight people represent the highest degree of achievement and commitment to our industry. Their leadership and their values of citizenship and service have transformed businesses, organizations and communities, and they are an inspiration to all of us who work in agriculture and natural resources."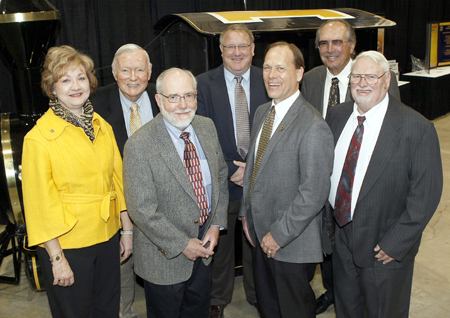 Recipients of a Certificate of Distinction awarded Saturday (Feb. 4) during the annual Purdue Agricultural Alumni Association Fish Fry are, from left, Susan A. Hayhurst of Terre Haute; J. William "Bill" Uhrig of West Lafayette; George F. Patrick of West Lafayette; Harold L. Thompson of Danville; S. Richard "Rick" Tolman of Ballwin, Mo.; Phillip E. Boring of New Palestine; and Hubert R. "Hub" Johnson of Frankfort. Not pictured is Rolf O. Peterson of Houghton, Mich. (Purdue Agricultural Communication photo/Tom Campbell)

The 2012 honorees are:
Phillip E. Boring of New Palestine, Ind., president of Boring Farms Inc. and LOI Farms Inc. Boring has been an innovator with his farming operations, his farm becoming one of the earliest family farms in Indiana to incorporate. He has innovated with new and non-traditional crops such as cucumbers and canola, as well as tomatoes and popcorn, which he still grows along with corn, soybeans and wheat. He and his wife, Janice, have hosted senior diplomats from the State Department to learn about agricultural production and policy, and many state and national delegations and international farmers and visitors have toured their farm. Boring has served on numerous national panels and symposia boards on topics including pork production, farm business transition and estate planning. He received a bachelor's degree in general agriculture from Purdue in 1961.
Susan A. Hayhurst of Terre Haute, Ind., a freelance writer. Her work appears in agricultural publications including Indiana Prairie Farmer, where she writes her "Hayhurst Haylofts" column and for more than 10 years has been a panelist for the magazine's Young Farmer Forum. She also has written for Farm World, AAA Hoosier Home & Away, the Indiana Farm Bureau's My Indiana Home and the Terre Haute Tribune-Star. She speaks to community groups about her farm life and has been a presenter at the Midwest Women in Ag Conference. Hayhurst previously worked in communications in Indianapolis and for the Purdue Alumni Association. In 1989 she joined her husband, Terry, in his family farming operation and continued her career in public relations at St. Mary of the Woods College. She received a bachelor's degree in child development from Purdue in 1982.
Hubert R. "Hub" Johnson of Frankfort, Ind., whose 50-year career has included positions with meat processors, service as a U.S. Department of Agriculture staff officer, a member of the Purdue faculty in meat science and many years as a consultant to the meats processing industry. Johnson has played a major role in transforming regulatory policy affecting the meat industry. His expertise earned him the nickname "The Ham Doctor." Johnson also has served his profession through service on numerous industry committees and boards. A varsity basketball player at Purdue, he received a bachelor's degree in animal sciences in 1961 and went on to earn a master's degree, also in animal sciences, and a doctoral degree. After his stint at Purdue, in 1977 he launched his own company, H.B. Ham Inc. in Rossville, Ind.
George F. Patrick of West Lafayette, Ind., a professor in Purdue's Department of Agricultural Economics, where he has served since 1973. He earned both his master's and doctorate in agricultural economics at Purdue in 1966 and 1970, respectively. Following graduation, he spent three years as project specialist for the Ford Foundation's work in Brazil. Patrick's career has had three major areas of impact: in his applied research and Extension education program on risk management; as a leader in tax education in Indiana and the nation, directing the Purdue Income Tax School since 1976; and in leadership in Extension at the departmental, regional and national levels. Among his other work in agriculture, Patrick was a founding director of the American Agricultural Economics Association Extension Section and served as its president.
Rolf O. Peterson of Houghton, Mich., a professor in the School of Forestry and Wood Products at Michigan Technological University, where in 2009 he was named as the Robbins Endowed Chair in Sustainable Management of the Environment. He has spent his entire career at MTU, establishing himself as an authority on wolf biology and the predator-prey relationship of wolves and moose. Peterson for 37 years has been involved in research at Isle Royale National Park in Michigan that began in 1958 and has become the longest continuous predator-prey research ever conducted. It is the baseline for virtually all wolf-moose research in the world and is the template for a study now being conducted on the reintroduced wolf population in Yellowstone National Park. He received a doctorate in wildlife ecology from Purdue in 1974.
Harold L. Thompson of Danville, Ind. Thompson's career spanned nearly 40 years with the USDA's Natural Resources Conservation Service, formerly the Soil Conservation Service. He provided technical assistance to producers in soil and water conservation systems, mostly in southwest Indiana, and served on the Indiana NRCS Leadership Team in assistant state conservationist positions. He became known for his ability to coordinate NRCS resources with other state and local agencies to complete successful conservation projects in watershed protection and flood prevention and to protect the highly erodible soils of southwest Indiana. Thompson served in leadership roles during his 42-year membership in the Hoosier Chapter of the Soil and Water Conservation Society. He received a bachelor's degree in agricultural education from Purdue in 1971.
S. Richard "Rick" Tolman of Ballwin, Mo., chief executive of the National Corn Growers Association. Under Tolman's leadership, the group has grown in membership, checkoff funds, size and stature of the annual Commodity Classic, and in market opportunities for corn farmers. He led the NCGA Corn Board in its 2006 call for production of 15 billion bushels of corn, a third of which could be used for production of 15 billion gallons of ethanol by 2015. The plan was part of energy legislation that President George W. Bush signed in 2007. Tolman previously was executive director of the U.S. Grains Council, marketing planning manager for the Advanced Harvesting Systems Group at International Harvester Co. and a market research analyst for the farm equipment maker Gehl Co. He earned a master's degree in agricultural economics from Purdue in 1978.
J. William "Bill" Uhrig of West Lafayette, Ind., is a retired Purdue professor of agricultural economics. He served in the Air Force Reserves as a pilot and at Iowa State University as an Extension economist before moving in 1967 to Purdue, where he made his mark over a 33-year career as an educator and grain marketing economist. Uhrig was co-developer of Purdue's Top Farmer Crop Workshop and organized Purdue's schools for agricultural banking, farm income tax and marketing on Indiana Higher Education Telecommunication System TV. He developed a farm marketing video series offered through closed-circuit television, one of the first such offerings by an agricultural economics department in the United States. He also developed AGEC 420, the undergraduate grain marketing course, which he taught for 20 years.