IFB's Villwock: 'My biggest mistake'
Wednesday, 02 July 2014 22:31
By Karen Clem Fritz
WINAMAC – Indiana Farm Bureau president Don Villwock chatted casually on several topics – becoming a grandfather, why his father didn't want him to become a farmer, a humorous tale on the different types of popcorn, and how he became involved in farm policy-making – when he spoke at an ag breakfast in Winamac Wednesday morning.
At various points in his talk, the audience members surely began to wonder how these stories were going to tie into his topic, "the Biggest Mistake I Ever Made."
Then suddenly, as he looked back on a wish he and his wife had shared - that their (then) nearly grown daughters would someday return to live near them - the seemingly random stories of his life experiences jelled, and Villwock zeroed in on his main point with some emotion.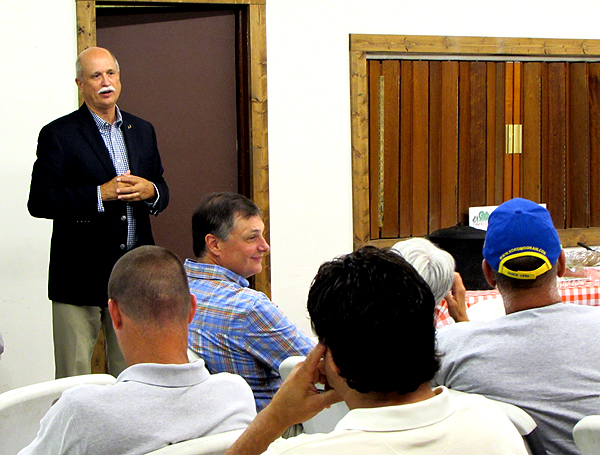 Indiana Farm Bureau president Don Villwock speaks at a Winamac ag breakfast
He described the rural blight that had been taking hold of the family's southwestern Indiana farm town and confessed, "My biggest mistake is that we let it fall down. The girls couldn't come back."
Then he asked the audience, "Do you care about your community? Are you building a community your kids and grandkids can come home to? I realized it too late – we had a town where we didn't want to live."
Villwock noted that in his town a big box store moved in, and Main Street moved out. "The downtown had an antique store and a couple of banks. The population grew older. The houses deteriorated."
But he admitted, "I didn't spend time working on my community. We had the Chamber of Commerce and the Economic Development people, and I thought, that's their job."
As it happened, Wednesday's breakfast was co-sponsored by the Pulaski County Community Foundation (PCCF), along with Purdue Extension Pulaski County. Before Villwock spoke, PCCF director Wendy Rose updated the audience on many of the programs the Foundation sponsors to build the community.
Villwock then teased Mrs. Rose that she had already given the bulk of his speech.
Continuing with his story, Villwock said he eventually served several years on his own community's foundation.
"We had good community assets and we built on our heritage, particularly our historical heritage," he said. They worked with Chamber of Commerce and economic development leaders, because, Villwock explained, "they had vision. That's the definition of leaders. They paint a vision others can see."
Villwock acknowledged that "it takes money to make this work," and he voiced support for community foundations. He noted that he and his wife Joyce decided to create a foundation fund that benefits 4-H, but added that half of their donation also goes to the foundation operating fund – essential to allowing foundations to accomplish their work.
He also voiced his support to the Gifts of Grain program, in which the PCCF and other organizations participate. This allows farmers to donate part of their harvest and save tax dollars.
Villwock told the farmers present, "Think how many times you push the button on the combine during harvest to empty the grain. Then think about donating 'one push' to make your community better for your kids."
He left the audience with this challenge, "Work with your community, be passionate about your community because someday you want your kids to come back."
For more information about Indiana Farm Bureau, visit www.infarmbureau.org.
For more information about the Pulaski County Community Foundation, visit its new website at www.pulaskiccf.org.
About Don Villwock:
Don Villwock of Edwardsport, Ind., took office as president of Indiana Farm Bureau and Indiana Farm Bureau Insurance in January 2002. His farming operation produces white corn, soybeans, seed soybeans, and seed wheat.
Villwock served in many capacities with Farm Bureau prior to his election as president, including vice president, District 7 director, Knox County president, State Young Farmer Committee chairman, and Feed Grains Committee chairman. He has served on the Farm Bill Task Force and the Farm Credit Task Force.
At the national level, Villwock is a member of the American Farm Bureau board of directors and a member of the executive committee. He is the national vice president of the Farm Bureau Bank, American Agricultural Insurance Company, and AFBIS. In January 2004 he was appointed to the AFBF Trade Advisory Committee. In June 2003, he was elected chairman of the board of trustees of the Farm Foundation. He is a member of the 25 x '25 Ag Energy Working Group, a national task force promoting the use of renewable fuels. He was also a finalist in the national Young Farmer and Rancher Discussion Meet, was elected national chairman of the Young Farmer/Rancher committee and in that role served on the AFBF board of directors.
A 1972 graduate of Purdue University with a degree in agricultural economics, Villwock was appointed by President Bush to serve as state executive director of the Agricultural Stabilization and Conservation Service from 1989 to 1993. He also served as state agricultural liaison for U.S. Sen. Richard Lugar. Villwock was appointed to the national Commission on 21st Century Production Agriculture in 1997Villwock has been involved with the Indiana Corn Growers, Indiana Soybean Growers, and the Indiana Pork Producers. He has also served as chairman of the Indiana Institute of Agriculture.
Other leadership positions and awards include Purdue Distinguished Agricultural Alumnus, Certificate of Distinction from Purdue Ag Alumni Association, past president of the Purdue Ag Alumni Association, Prairie Farmer Master Farmer, Friend of Extension, 33rd degree Scottish Rite Mason and was named a Sagamore of the Wabash by Indiana's governor. He also holds an Honorary Doctorate from Vincennes University.
Don and his wife, Joyce, have two married daughters and a grandson.