Pulaski County Public Library unveils centennial sign
Saturday, 02 September 2017 14:21
WINAMAC - A sign to commemorate the centennial of Winamac's Carnegie Library has been completed. The sign appears in front of the Carnegie library, which was originally established in 1915 as the Winamac Public Library.
The brick structure was designed by Easterday Construction Co., built by Schamber's Masonry, wired by Dan Knouff Electrical, and landscaped by ProScapes.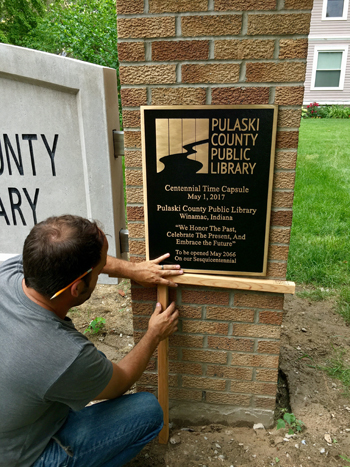 The sign includes a time capsule that is scheduled to be opened in 50 years. Within the time capsule is memorabilia from Indiana's bicentennial, a letter to the library board's future trustees, and currently used library technology, such as DVDs.
A list of the public library's Carnegie-era board members appears on one side of the sign, and the names of the centennial year board members appear on the opposite side. Acknowledgment is also given to Andrew Carnegie as the benefactor, and the Town of Winamac as the organization's establishing body.
The fourth panel on the sign includes a quote from Andrew Carnegie, "A library outranks any other one thing a community can do to benefit its people. It is a never failing spring in the desert." Jennifer Comins, archivist with the Carnegie Collection at Columbia University, assisted the library staff with the quote citation.
This project, in celebration of the centennial anniversary, was completed through generous donations to the Pulaski County Public Library's Gift and Memorial Fund.
For more information on giving opportunities at the Library, visit www.pulaskicounty.lib.in.us/about-us/support- library or call the library at (574) 946-3432.