Deputy Eber recognized by Rep. Walorski
Monday, 23 October 2017 14:42
Pulaski County Sheriff's Office Deputy Branson Eber was recognized by Congresswoman Jackie Walorski Oct. 18 for his "outstanding actions" during a cross-county pursuit ending in Pulaski County earlier this year.
Walorski presented Eber with a plaque to commemorate the recognition read in to the Congressional Record in Washington D.C. on Oct. 4.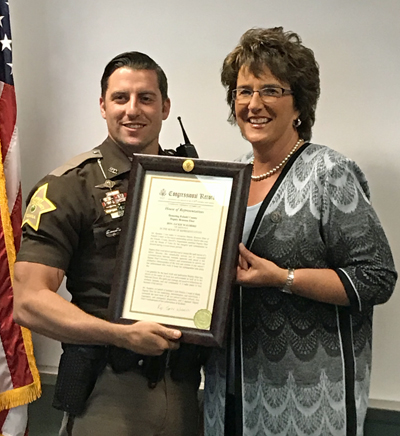 Walorski read the following to the U. S. House of Representatives, therefore making the reading forever a part of the Congressional Record. The statement read by Walorski is as follows:
"Mr. Speaker, I rise today to recognize Deputy Branson Eber of Pulaski County on his recent outstanding actions. Earlier this
year, the Pulaski County Sheriff's Department awarded Deputy Eber with the Medal of Valor for the integrity and commitment he showed during a cross-county pursuit.
"Deputy Eber went above and beyond to ensure the safe rescue of a fellow Hoosier. His remarkable actions led to successful communication between multiple agencies and saved a life. Deputy Eber's bravery, instinct, and commitment to service are exemplary characteristics of the men and women in our nation's law enforcement who work to keep our communities safe every day.
"I am grateful for the hard work and dedication Deputy Eber has shown in his career in local law enforcement as well as in the National Guard. His spirit and courage are positive reflections on northern Indiana, and our community is a safer place to live because of his service.
"Mr. Speaker, on behalf of Indiana's 2nd District, I want to thank Deputy Eber for his leadership, determination, and conviction. I
commend the hard work of all our nation's police officers, first responders, and emergency dispatchers, and I applaud Deputy Eber's embodiment of law enforcement at its finest."
The Pulaski County Sheriff's Office previously awarded Deputy Branson Eber with the Medal of Valor for his efforts in an incident on March 28 involving an abduction in Warren County leading to a pursuit through Tippecanoe County, White County and ending in Pulaski County. The actions of Deputy Eber and officers involved are believed to have ensured the safe rescue of a juvenile who was reportedly abducted.