Community Foundation supports VFW building renovations
Monday, 23 October 2017 15:21
WINAMAC - The Winamac VFW now has a stabilized building that will stand the test of time and weather.
The old roof had been failing for some years, leaking and creating water damage throughout. The VFW, long a supporter of the community at large - allowing its facility to be used for fundraisers and celebrations - faced the prospect of continued financial drain to repair weather-related damage to the roof and internal damage caused by leaks.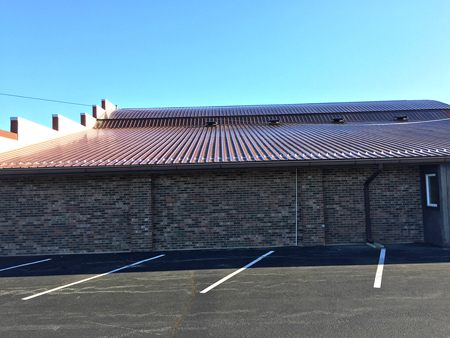 The roof was a concern, but the main source of income for the VFW, the Canteen, needed improvements as well, including an accessible exit door and a fire suppression system for the small kitchen.
In an effort to preserve this building for generations to come, the VFW put together a coalition of funders to meet the need.
First to help the VFW was the Community Foundation of Pulaski County. The Community Foundation presented a significant check to the organization for the roof replacement, setting off a chain reaction of other organizations jumping in to help, including Carroll White REMC, BraunAbility, Fulton County REMC, Knox VFW, Kankakee Valley REMC, Fratco, NIPSCO, LightStream, Galfab, Keller Advisory Group, Murray Leasing, Community State Bank, KOVA Agribusiness Team and Alliance Bank.
Significant support was also received from VFW members and the VFW Auxiliary.
The VFW recognizes the prominent role of the Community Foundation with these projects. Without its initial support, the success was not certain. With it, the VFW building will live on for generations to come.