Winamac Kiwanis distributes dictionaries to EPES, WCES third graders
Friday, 10 November 2017 22:54
Once again, the Winamac Kiwanis Club has distributed a dictionary to every third grader at Eastern Pulaski and West Central elementary schools.
In early November, nine members of the Kiwanis Club visited both schools to give 160 dictionaries, which are the student's to keep and use throughout the school year at school or home. Many teachers find the specific dictionary provided incredibly useful – as it includes a lot more than just words.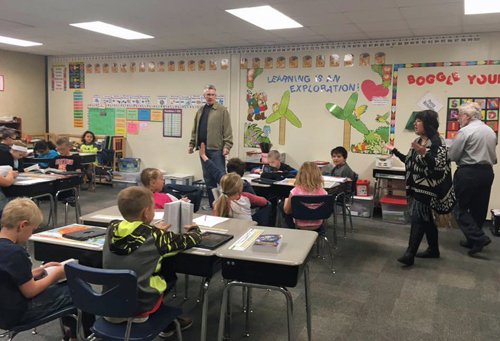 "In an age of technology, dictionaries may seem outdated," notes Winamac Kiwanis president Sara Kroft. "However, the students light up when they find that the dictionary holds more than definitions. Some of the more favorite things the students find in the dictionary are the longest word (which has over 1,900 letters in it), information about the states, sign language, and braille.
The dictionaries are purchased through the national group, The Dictionary Project, which aims to assist all students to become good writers, active readers and creative thinkers by providing students a gift of their own personal dictionary.
This dictionary contains all the elements of the Best Dictionary for Students, plus more than 150 pages of supplemental information in the back. Key features include:
The Constitution of the United States
The Declaration of Independence
Brief biographies of all U. S. presidents
World maps
Information about all 50 states
Details on all countries of the world
Facts about the planets in our solar system
Winamac Kiwanis member who participated in the local dictionary distribution were Rex Allman, Crystal Benson, David Budd, Kim Hanson, Robert Klitzman, John Kocher, Sara Kroft, Tim Murray, and Michael Shurn.
If you would like more information about the Winamac Kiwanis Club membership or our community service projects please find us on Facebook at Winamac Kiwanis Club or attend one of our weekly Tuesday 12pm meetings in the basement of the Winamac First Methodist Church.