Peyton Newman named recipient of 2018 Lilly Scholarship
Tuesday, 12 December 2017 16:18
One Pulaski County student has been named the recipient of a full-tuition, four-year scholarship as the Community Foundation of Pulaski County 2018 Lilly Endowment Community Scholar.
Peyton Newman will receive full tuition to an Indiana college of her choice and a $900 yearly stipend for required books and equipment.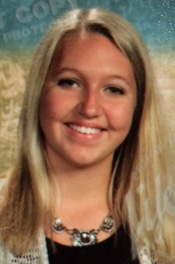 Peyton, daughter of Arthur and Melissa Newman, will graduate from Winamac Community High School in May. Her educational goals are to enroll in the pre-vet program at Purdue University and obtain a master's degree in veterinary medicine.
At WCHS, she has been involved in numerous activities, including Student Council, FFA, Sunshine Society, SADD, Key Club, and Drama. She is also active in golf and cheerleading.
Outside of school, Peyton is very involved in 4-H and is a nine-year member. She has volunteered as a camp counselor, fair board representative, council representative, and is a five-year 4-H Junior Leader member. Peyton also volunteers at local charitable programs collecting canned goods for poverty awareness, planting trees with the Winamac Tree Committee, and providing childcare at her church.
The Lilly Endowment Community Scholarship is open to all Pulaski County high school seniors who will graduate with a diploma from an accredited Indiana high school and who intend to pursue a full-time baccalaureate course of study at an Indiana school. Several scholarship applications from Pulaski County students were received and considered by the CF Scholarship Selection Committee. Candidates are nominated following an online application and an oral interview/presentation process.
Nominees are then submitted to Independent Colleges of Indiana, Inc. (ICI) for selection in accordance with the criteria and procedures consistent with applicable law and the overall goals of the Lilly Endowment Community Scholarship program. ICI is a nonprofit corporation that represents 30 regionally accredited degree granting, nonprofit, private colleges and universities in the state.
The scholarships are the result of a statewide Lilly Endowment initiative to help Hoosier students reach higher levels of education. Indiana ranks among the lowest states in the percentage of residents over the age of 25 with a bachelor's degree. 143 scholarships were awarded statewide this year.