WOW! announces Holiday Window Decorating Contest winners
Saturday, 16 December 2017 19:13
WINAMAC - WOW! (Wander Our Winamac) has announced that Opera House Floral & Gifts is the winner of its first annual Holiday Window Decorating Contest.
WOW! invited downtown Winamac businesses to festively decorate and light their display windows for the holiday season (Dec. 1-31). 148 voters participated in the public online voting to determine the contest winners.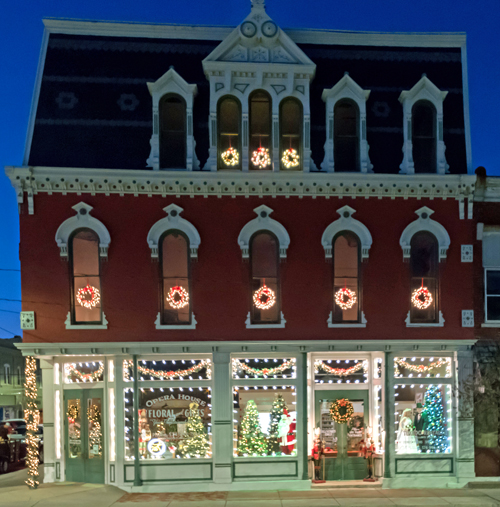 Opera House Floral & Gifts won first place, receiving 53.4 percent of the total votes.
Winamac Lumber's Greenhouse and Floral Downtown Holiday Store earned second place with 18.2 percent of the vote. Cathy Fritz Consulting and Pulaski County Journal/Independent tied for third place with 5.4 percent of the votes each.
WOW! leader Melanie Berger said of the contest, "We were thrilled with the participation, imagination and creativity our downtown businesses offered for this new event. These beautiful displays draw people from Winamac and surrounding towns to enjoy, support local shops and get in the holiday spirit. Thanks to everyone in the community who voted. We hope all area residents and visitors have the opportunity to see and appreciate this year's displays."
Opera House Floral & Gifts owners Carrie and Doug Hoffman will receive a wall plaque with a photo of their winning storefront.
The shop opened in June 2017 at the storefront of the historic Vurpillat Opera House on the corner of Main and Market Streets, downtown Winamac. Opera House Floral is an official FTD store, offering full-service bouquets, arrangements and gifts for all occasions.
The Vurpillat Opera House was built in 1882 and is listed on the National and Indiana Register of Historic Places.
About WOW!
WOW! (Wander Our Winamac) is a group of community members dedicated to building a vibrant downtown that provides social, commercial, and recreational opportunities through economic revitalization, preservation and design. WOW! defines the downtown area from Spring Street South to Washington Street and from the Panhandle Pathway to the Tippecanoe River. WOW! is affiliated with Indiana Main Street, is officially incorporated and a 501c3organization.