Fountain County contestant wins 2018 Indiana State Fair Queen title
Monday, 08 January 2018 00:15
INDIANAPOLIS - Fountain County's Audrey Campbell was crowned as the 60th Indiana State Fair Queen at the pageant finals Sunday afternoon at the state fairgrounds.
She will reign over the 2018 Indiana State Fair Aug. 3-19, in Indianapolis.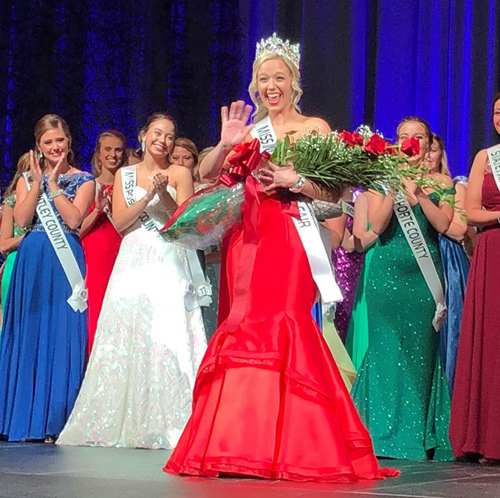 First runner up was Kaitlyn Kendall of Marion County, second runner up was Logan Glassburn of Newton County, third runner up was Samantha Shank of Elkhart County, and fourth runner up was Jessica Mars of Boone County. Miss Congeniality was Holly Bittner of Gibson County.
The Top Ten finalists were from Whitley, Marion, Elkhart, Fountain, Posey, Newton, Knox, Franklin, LaPorte and Boone counties.
The Top 16 semi finalists were from Knox, Boone, Newton, LaPorte, Marion, St. Joseph, Adams, Wayne, Fountain, Franklin, Posey, Benton, Warren, Whitley, Elkhart and Steuben counties.
The pageant ran Jan. 5-7 with preliminary competition on Friday and Saturday, and the finals on Sunday afternoon when 2017 Queen Becca Lax of Vanderburgh County crowned her successor.
All 87 county representatives appeared on stage to begin the Sunday's finals. The 16 semi-finalists were announced and competed in the One-Minute Prepared Speech and Professional Wear judging. Later, the Top Ten Finalists competeed in the On-Stage Question and Formal Wear Judging. The afternoon concluded with the announcement of the four Queen's Court members and Miss Indiana State Fair 2018.
Late Saturday afternoon preliminary judging was held at a public ticketed event. All county queens participated in Prepared Speech, Professional Wear and Formal Wear.
For the second year, each contestant delivered a one-minute prepared speech on the topic of their choice during the public Preliminary Night. With the increased emphasis on the Queen's role as a State Fair ambassador and employment with the Indiana State Fairgrounds & Event Center, this is an important element to the judging.
Pulaski County was represented in the pageant by its 2017 fair queen Maddie Ruff. She was one of 87 contestants from across the state.
Miss Ruff of Star City is the daughter of Jim and Shelia Ruff. She is a sophomore at Ball State University where she is majoring in special education.